Campaign to honour Thorne soldier Sgt Lee Davidson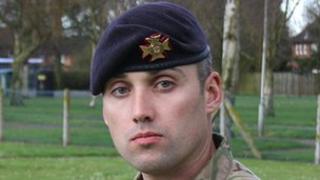 The family of a soldier who was killed in Afghanistan is campaigning for a disused walled garden to be dedicated to him when it is renovated.
Sgt Lee Davidson, 32, from Thorne, near Doncaster, died on 9 September 2012 when his armoured vehicle hit a roadside bomb in Nahr-e Saraj, Helmand.
Now, his sisters are leading a campaign to have a plaque placed at the entrance to the garden in Thorne.
Thorne Moorends Town Council said it would consider the proposal next month.
Sgt Davidson, of the Light Dragoons, was training Afghan police officers when he died.
'Sensitivities of issue'
His name has been added to the war memorial in the town, but his sisters Toni and Tracey Davidson want the garden to become a lasting memorial to him.
Toni said: "We didn't think it would be a problem, but there so many obstacles [the town council] has to look into and take in other people's opinions."
A council spokesman said a number of meetings had been held with Sgt Davidson's sisters.
Sgt Davidson's widow Samantha had requested a tree and plaque in the garden.
In a statement, the council said: "A meeting with the family was held on 3 December.
"In view of the sensitivities of the issues involved, a representative from the Royal British Legion attended the meeting."