Auckley school roof blown off in high winds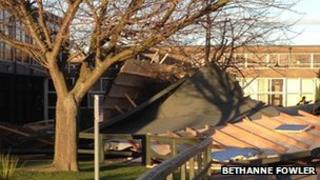 Pupils had to be moved to safety after part of their school's roof blew off.
Children at Hayfield School, in Auckley, near Doncaster, were moved to a sports hall after sections of roofing came loose at about 13:30 GMT.
South Yorkshire Fire Service said crews used thermal imaging equipment and checked CCTV footage to ensure nobody was trapped.
Head teacher Maria Rock said the school would be closed on Friday to allow the debris to be cleared.
'Everyone was panicking'
Pupil Joseph Redeyoff said he had been in a music lesson when the roof came away.
He said: "We looked outside and the whole of the roof was ripping off.
"Everyone was panicking.
"The teachers came and said we needed to be evacuated to the sports hall because it was dangerous.
"We were in there for about an hour.
"We came outside and there was a lot of rubble. It scared me."
A spokesperson for the school said nobody was injured.