Work starts on South Yorkshire's £30m rapid bus scheme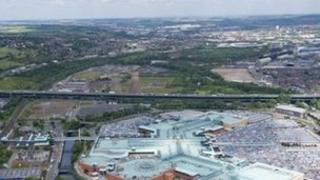 Work will start later on a new £30m project to improve bus services between Rotherham and Sheffield.
The Bus Rapid Transit service will see special buses travelling along a fixed route and only stop at a limited number of places.
Part of the journey will be run on dedicated bus lanes, with a separate road being built under the M1 motorway at Tinsley.
The service is expected to be operating by 2015, with further routes planned.
The first service, known as the Northern Route, will pass the Meadowhall shopping centre and Sheffield's Hallam University.
David Young from South Yorkshire Passenger Transport Executive said the bus service was an important part of the economic regeneration of the area.
He said: "Mostly it's about getting people better access to employment and opening up the employment sites in the Don Valley and also helping people get to those between the two urban centres."
Last year, the government agreed to fund a £60m "tram-train" scheme in South Yorkshire.
The project, which is due to open in 2014, would see newly-built vehicles run on local tram routes and Network Rail lines between Sheffield, Meadowhall and Rotherham.