Sheffield shops see 'dire' drop in takings after market moves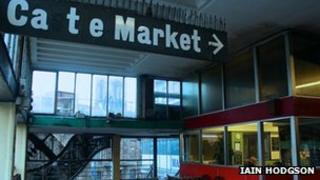 Businesses in Sheffield have said they have seen a big drop in trade since the opening of a market hall closer to the city centre.
Last week the £18m Moor Market was opened and the Castle Market closed after 54 years of trading.
Shops surrounding the old market site claim that takings have dropped dramatically following the move.
Sheffield City Council's head of regeneration Simon Odgen, said there would be "a new role for the area".
One trader described the situation as "absolutely shocking"
'No quick fix'
"We are just not doing any trade at all anymore," he said.
"It's pretty dead. Today, I've taken £42.
"So you take my rent off that, which is £15, diesel £5, cost of stock. I've earned about £10 today."
Another trader claimed his takings had halved since the Moor Market opened.
The Castle Market site is to be demolished next year.
Mr Odgen said the council had not "abandoned" the site and the authority was planning to redevelop the area into a tourist attraction with a park incorporating the remains of the city's castle.
"There is no quick fix," said Mr Odgen.
"The market at castle was dying. It had to be moved in order to survive."