Sheffield United's Marlon King denies dangerous driving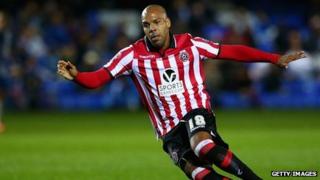 Sheffield United striker Marlon King has appeared in court to deny dangerous driving after a three-car crash that left a man with a fractured elbow.
The 33-year-old League One player is alleged to have committed the offence on 26 April while driving a Porsche Panamera on the A46 in Nottinghamshire.
Mr King pleaded not guilty to the charge at Nottingham Crown Court and was bailed ahead of a trial in March.
A 35-year-old man suffered a fractured elbow in the collision near Newark.
The incident was witnessed by an off-duty police officer.
Mr King, a Jamaica international, whose previous clubs include Gillingham, Nottingham Forest, Watford, Wigan, Coventry City and Birmingham City, asked the court through his barrister for his trial to be delayed until the close-season.
But Judge Jonathan Teare QC rejected the request, telling his lawyer: "I don't wish to have any impact on either your client or his team but I also don't wish to have any adverse impact on the witnesses."
Dangerous driving carries a maximum sentence of two years imprisonment.
Mr King, of Torksey, Lincolnshire, joined the Blades in September and has scored one goal in nine appearances.