Doncaster Council could lose nine councillors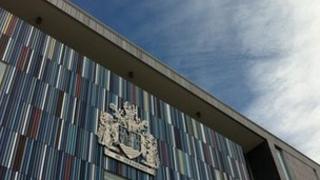 A South Yorkshire council could lose nine councillors as part of proposals to draw up new ward boundaries.
The Local Government Boundary Commission for England has said it is "minded to recommend" Doncaster Council cuts councillor numbers from 63 to 54.
The Commission has asked people in the town to help produce a new ward pattern to accommodate the suggested reduction.
It said any alterations would take into account "local community identities" as well as ensuring "electoral equality".
'Make a difference'
Commission chair Max Caller said: "The starting point of an electoral review is for the Commission to take a view on the number of councillors who should represent electors in future.
"On the evidence presented to the Commission, we are minded to recommend that Doncaster should have 54 councillors in future, nine fewer than the current set-up."
Local residents and organisations will now be asked to help draw up new wards for the borough and their views "will make a difference", Mr Caller said.
"As we develop the recommendations, we will take into account local community identities as well as ensuring electoral equality for voters so each councillor represents roughly the same number of voters," he said.
Local residents have until 3 February to submit their views, with a further chance to have their say after draft recommendations are published next April, the Commission said.
Mayor of Doncaster, Ros Jones, said she welcomed the decision and encouraged residents to have their say on the consultation.
She said: "It is important that we have the right number of councillors to make effective decisions and represent the residents in all of our communities."