Sheffield's Moor Market opens for business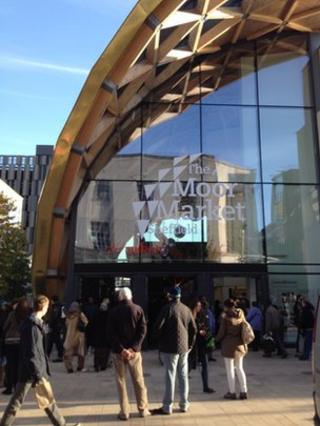 Sheffield's new £18m Moor Market has been officially opened for business.
The market hall has replaced Castle Market, which formally closed on Saturday after 54 years of trading.
It was declared open at 10:00 GMT when a bell was rung by traders Anton Smith and Renee Granelli, in a tradition dating back more than 400 years.
The Lord Mayor of Sheffield, councillor Vickie Priestley, said the move from Castle Market to The Moor marked "the start of a new chapter".
About one third of the 90 traders are new to the city's markets, Sheffield City Council said.
Royal Charter
Market Manager Andy Ward said he hoped the market would attract around 100,000 people each week, which was "about the level that Castle Market was achieving six or seven years ago".
"If we can get back to that sort of level, we will be happy."
Sheffield was first granted a Royal Charter to hold markets in 1296 by Edward 1.
The bell used in the ceremony was discovered at Castle Market while preparing for the move to The Moor.
It hung in Norfolk Market Hall, which opened on Christmas Eve 1851 and was demolished in 1959 to make way for Castle Market.