Sheffield FC wins oldest football teams Pioneer Cup competition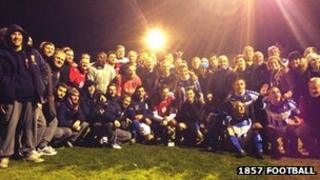 The world's oldest football club, Sheffield FC, has won a one-day cup competition against the oldest club sides from Italy and Spain.
The Sheffield club won games against Spanish side RC Recreativo de Huelva and Genoa CFC in the inaugural Pioneers' Cup on Saturday.
The home victory was sealed with a last-minute goal to beat Genoa 3-2.
The South Yorkshire club was founded in 1857 and played a key role in providing the rules of modern football.
Sheffield FC said it hoped the friendly tournament would become a regular event.
It attracted a "sizeable crowd", according to organisers.
The club said the aim of the day was also to promote the beauty of grass roots and amateur football.