IPCC apologise for Orgreave probe delay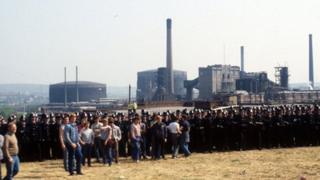 The Independent Police Complaints Commission (IPCC) has apologised for delays in investigating the violence at Orgreave during the miners' strike.
The apology came as forces across England and Wales were asked to search their archives for notes about clashes at the Rotherham coking plant in 1984.
The IPCC is considering whether to investigate South Yorkshire Police.
The force referred itself after a BBC documentary claimed officers may have colluded in writing court statements.
On 18 June 1984, the British Steel plant at Orgreave was the scene of a confrontation between about 10,000 striking miners from pits across the country and some 5,000 police officers.
According to a police report, 93 pickets were arrested, with a further 51 injured along with 72 police officers.
'Scoping exercise'
IPCC commissioner Cindy Butts issued the apology after a demonstration by members of the Orgreave Truth and Justice Campaign outside the IPCC headquarters in Wakefield.
"I apologise because I know people want answers and we are not in a position to given them those answers," she said.
"It is in recognition of the fact that people want to know what happened and we are not able to tell them that now."
The request for additional information by the IPCC forms part of its "scoping exercise" into what went on in the police force, which is already under scrutiny over its role in the Hillsborough disaster.
It will then decide whether to carry out a full investigation.
The commission has been examining files in 65 boxes handed over by the South Yorkshire force. It is understood they contain specific information relating to events at Orgreave.
'Hugely complex'
There are more boxes, which are yet to be considered by the IPCC, that are thought to contain general information about the miners' strike, the watchdog said.
Ms Butts said what had already been received "can in no way be described as a complete record of events".
The watchdog's scoping exercise was "hugely complex", she added, and all police forces in England and Wales had been asked to search for any relevant documents.
The BBC Inside Out programme investigated the events following the arrest of more than 90 people at Orgreave, which saw some of the most shocking and infamous scenes of the bitter dispute.
Those charged with riot were later cleared after doubts were raised about police evidence.
'Raw emotions'
The BBC said it obtained copies of about 100 police witness statements, which programme makers said showed the extent to which officers used identical phrases to describe what they had seen.
"I appreciate it is now almost 30 years since the events at Orgreave and a year since South Yorkshire Police made a referral to us - and people will rightly want answers to the questions they have," Ms Butts said.
"I know how raw the emotions are in mining communities around Yorkshire and the rest of the country.
"I am committed to ensuring we conduct a thorough scoping exercise to ensure we have all the information at our disposal to make a definitive decision about what matters remain capable of investigation."
Ms Butts said the IPCC had also approached law firms which represented miners in relation to Orgreave to establish what documents they might hold.