Fridge dumping on Sheffield street was 'sheer vandalism'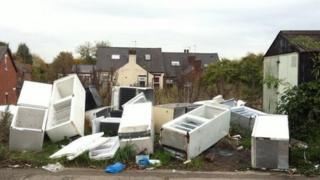 The dumping of 20 refrigerators on a street in Sheffield was an act of "sheer vandalism", the organiser of a community cleaning event has said.
The fridges were left close to a junior school on Fisher Lane in Darnall within weeks of Darnall Community Forum's litter picking efforts.
Organiser Sylvia Hamilton said the group felt "violated" by the dumping.
Sheffield City Council said it was trying to find those responsible for fly-tipping the items.
A spokesman said the council, which supported the "Loving Darnell" cleaning days at the end of October, was unable to remove the fridges immediately as they were on private land.
Ms Hamilton said although the area had suffered from incidents of fly-tipping in the past, the dumping of the fridges was "sheer vandalism".
"Over the two days we did the litter pick, there were over 30 people involved [and they] were really encouraging and encouraged," she said.
"To see this happen so soon afterwards, we just feel violated."
Councillor Jack Scott, who has responsibility for waste disposal at the authority, said there was a need to "make that land secure so this can't happen again".
He added that the council wanted to hear from anyone who had information about the fly-tipping.