'Women of Steel' concert to raise funds for Sheffield statue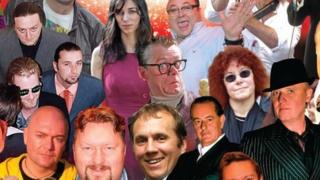 Some of the biggest names in Sheffield's musical history are to perform at a special concert to celebrate the city's "Women of Steel".
Heaven 17, ABC and Baby Bird are among the line-up appearing at Sheffield City Hall later.
The performance aims to raise money for a £150,000 statue to commemorate the women who worked in the steel industry through both world wars.
Organiser John Palmer said the concert could add £40,000 to the statue fund.
'Achievements should not die'
Sheffield City Council launched an appeal to raise money for the bronze sculpture at Barkers Pool, outside the city hall, in February.
The planned sculpture has been designed by artist Martin Jennings.
Mr Palmer said it was hoped the statue could be in place in time for the 100th anniversary of the outbreak of World War One.
Many of World War II's Women of Steel, now in their 80s and 90s, attended tea dances at the city hall.
"The women aren't going to be here forever," Mr Palmer said. "One of them said to me, 'We're history now, but if we can get the statue up we'll remain'."
He added: "We're really pleased that our local big names want to honour some of the city's most deserving characters, whose achievements should not die with them."
Tony Christie, John Parr, and Reverend and the Makers' front man Jon McClure will also perform.
The concert is due to begin at 19:30 GMT.