Doncaster man jailed for sex with abducted girl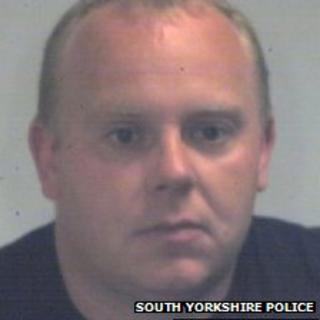 A 35-year-old man who went on the run with a 14-year-old girl he lured away from her foster parent carers in South Yorkshire has been jailed.
John Bush, of Moss Road in Askern, Doncaster, disappeared with the girl, who cannot be named, on 10 June.
A nationwide police hunt was launched after the teenager went missing.
Police eventually found the pair near Euston Station in London. Bush admitted sexual activity with a child and child abduction and was jailed for six years.
He was jailed at Sheffield Crown Court by a judge who said he believed Bush - a convicted fraudster - was at least partly motivated by sex.
Sarah Wright, prosecuting, said Bush took the girl from her foster parents.
Police found the pair had exchanged 250 text messages in three days in June.
'It's over'
Judge Paul Watson said Bush's action had left many members of the girl's family deeply worried.
He said: "She was a vulnerable little girl leading a chaotic lifestyle, through no fault of her own.
"At a time when she needed stability and guidance in her life, you took her away from the people responsible for providing that for her."
But Nicholas De La Poer, defending, said the girl's mother knew where she was and was in regular contact with her daughter "whatever she was saying publicly".
Bush, he added, was "making it up as he went along" and "living off his wits".
The court heard the pair left Doncaster together, heading first to Pontefract in West Yorkshire and then to Melton Mowbray in Leicestershire.
At a pub in the village of Sproxton, Bush used a "sob story" to con a landlord into giving them rooms but left the next day without paying.
After going to Peterborough they went to London and were spotted by a British Transport Police officer and Bush was arrested.
Bush called out to the girl and said "it's over".