Sheffield Forgemasters withdraws from £36m loan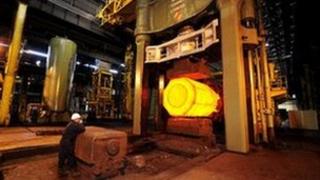 A Sheffield steel foundry has withdrawn its bid for a £36m government loan two years after it was first offered.
The loan was confirmed by the Government in 2011 as part of its nationwide Regional Growth Fund (RGF).
The coalition had previously cancelled an £80m loan offered to the company by the Labour government.
Forgemasters said its investment priorities had changed. The government said the decision was a commercial one taken by the company.
The loan was to have been used for plant and equipment enhancements but two years after it was offered the company had still not received the money.
'Fine company'
The RGF scheme has been criticised by MPs and the National Audit Office for being too slow.
However, Graham Honeyman, chief executive at Sheffield Forgemasters International Ltd, said the company's decision was not a criticism of the fund.
He said: "I would like to record our appreciation of the RGF concept and the support provided by Nick Clegg as a constituency MP.
"The company will continue its present programme of investments in plant, research and technology using funds provided by government sources such as the Technology Strategy board and by reinvesting all its own trading profits."
Deputy Prime Minister Nick Clegg had faced criticism when the coalition cancelled the loan agreed by the Labour government, describing it as "unaffordable"
A spokesman for Mr Clegg, who is the Liberal Democrat MP for Sheffield Hallam, said the decision to withdraw from the loan was "solely" down to the company.
"They are a fine company and a vital part of our city's economy but they know what is best for their company in both the short and long run," he said.