Last Remploy site in Yorkshire shuts in Sheffield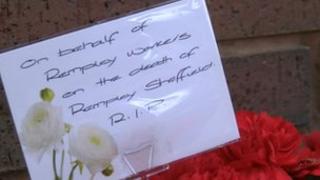 The last Remploy factory in Yorkshire has closed with the loss of 90 jobs.
The factory for disabled people in Brightside Lane, Sheffield, shut its doors earlier.
Former workers laid a wreath on Tuesday lamenting "the death" of the government-owned organisation, which has been in the city since the 1940s.
Since August 2012 more than 200 people have lost their jobs in Yorkshire with the closure of sites in Leeds, Pontefract, Huddersfield and Sheffield.
Ex-worker James Stribley, who began work at the Sheffield site in 1986, said he was "upset" by the closure and worried about his future.
"It was my life," he said. "It allowed me to have a proper life, to pay tax, have a family.
"I'm looking for other work but it's hard out there."
'Dignity and respect'
In total 83 factories in the UK have closed or been sold since 2007.
The site in Sheffield, together with sites in Blackburn and Neath, in south Wales, are the final three to be shut.
A spokesman for the Department for Work and Pensions (DWP) said an £8m package had been put in place to support ex-workers.
He said the "tailored packages" were "already making a real difference to disabled people by supporting them into new careers".
But GMB regional organiser Bob McNeill said he feared those who had lost their jobs "will all end up on benefits" and said the DWP was not doing enough to find work for those affected.
He said: "They should hang their heads in shame until every single person who worked at Remploy has a meaningful job, full-time, paid, so they can have the dignity and respect they had at the Remploy factories."