Thavisha Peiris: Murdered Sheffield pizza man's parents 'devastated'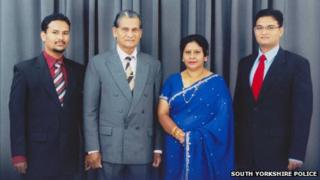 The parents of a pizza delivery man found stabbed to death in his car have said they are "devastated" by the loss of their "caring and loving son".
Thavisha Lakindu Peiris 25, was found dead by colleagues in his car in Southey Crescent, Sheffield, on Sunday.
He had been making his final delivery before he was due to start a new job as an IT consultant.
His parents, Sarath Mahinda Peiris and Sudarma Narangoda, said they had been left "heartbroken" by his death.
'Always smiling'
Speaking from their family home in Sri Lanka, the couple said: "We were devastated and shocked to hear of our son's tragic end and we are still unable to comprehend that he is actually gone.
"Thavisha was one of the most caring and loving sons a parent could have. He was full of life and always had a smile on his face. Anyone who met him immediately liked him.
"He was a deeply religious boy who would not even harm an ant. We sent our son to the UK to study so he can have a better life. Now we are left with only a broken heart.
"We urge anyone who knows anything about our son's tragic death to come forward to help bring whoever is responsible to justice."
Mr Peiris had been working at Domino's Pizza in Halifax Road after completing a degree in IT at Sheffield Hallam University in 2011.
He left the restaurant at 21:50 GMT to make a delivery in Southey Crescent and when the customer called to say he had not arrived, colleagues set off to find him.
They found him dead in the driving seat of his Toyota Yaris in a parking bay close to where he was due to make the delivery. The doors of the car were closed.
South Yorkshire Police said he died from stab wounds in what is believed to have been a random attack.
'Cruel and inhuman'
Mr Peiris older brother, Pramod Chetheka Peiris, said: "I am heartbroken. My brother Thavisha was the centre of our world.
"He gave us so many reasons to smile. He was kind and considerate and we were extremely proud of his achievements.
"We were so happy that he was doing so well in England. We never thought his life was in any danger.
"I can't believe he was taken away from us in this cruel and inhuman manner."
Domino's has said it will fund the cost of flying Mr Peiris's father, mother and brother to the UK.
Lance Batchelor, CEO of the company, said: "All of us are shocked and deeply saddened by his senseless death and our thoughts go out to his colleagues, friends and family.
"His family being so far away adds to the pain of this tragic situation and bringing them over to the UK is of paramount importance."