Sheffield council name Ski Village as 'fly-tipping hot spot'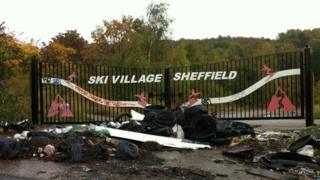 A former open-air ski centre has become a hot spot for vandalism and fly-tipping, according to a council report.
Sheffield City Council investigated the derelict Ski Village site off Vale Road after reports of unauthorised dumping were flagged up.
The centre, which closed last year, has been described as an "eye sore" by people living nearby.
The council's planning committee will now decide whether to take legal action to ensure the upkeep of the site.
The former Ski Village has been hit by several arson attacks since closing and, according to the report, demolition material, scrap vehicles and tyres have been dumped at the site.
The council-owned land in Parkwood Springs is currently leased to Pullan Homes.
'Real mess'
The report will be considered by the planning committee on 5 November, when councillors will be asked to give authorisation for "appropriate action" to be taken to stop illegal tipping, remove material and remedy any harm caused.
Pullan Homes' Kevin Pullan said that after a major fire in April 2012, there had been "seven copycat arson attacks, one resulted in a criminal prosecution, an awful lot of theft of metal and considerable fly-tipping."
He added that there was no truth to a claim in the report that the site had been used for transferring excavation waste from a residential development, in contravention of planning consent.
"All that we've done is take some clean spoil material and level up the top of where the arson attack was," he said.
Neil Scholfield, chairman of the friends of Parkwood Springs, said he hoped the site could be protected from fly-tipping in the future.
He added that the site was "a real mess".