Sheffield City Councillor quits over unpaid rates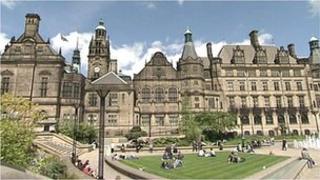 A council's cabinet member for finance has resigned after falling two months behind on his business rates.
Sheffield City councillor Bryan Lodge, who runs a sandwich shop, said he would pay his debts this month, but did not want to be distracted from his role.
He said standing down was "the most appropriate action to take".
Council leader Julie Dore praised Mr Lodge's "excellent" work in handling "the most challenging financial situation in the council's history".
In a formal statement Mr Lodge, the former deputy leader of the council, said: "My business rates have fallen behind by two months but by the end of October I will have paid these arrears off.
"Furthermore I have made arrangements to ensure these are maintained up to date in the future."