South Yorkshire bank robbed in ram raid attack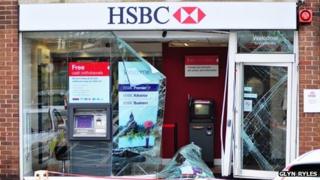 Four men are wanted in connection with a ram raid on a bank in South Yorkshire.
A white car was seen being repeatedly reversed into the window of a branch of HSBC in the Tanyard Shopping Centre, in Wickersley, Rotherham, at 09:15 BST.
South Yorkshire Police said the men stole money from a cash machine before making their escape.
Officers said the car was later found abandoned on Black Carr Road. A manhunt is under way to find the four men.
An eyewitness said the incident was over very quickly.
"There was an almighty crash and at first I thought somebody had had a good bump in a car outside," he said.
"Then I saw a vehicle had reversed or had accidently gone in to the front of a bank and then it started to sink in that there was probably more to it than that.
"The vehicle proceeded to pull away from the bank and take a couple of runs backwards at speed to knock the front of the bank down."
He said three men in balaclavas armed with baseball bats went into the bank and ran out with metal boxes before getting back into the car and driving away.