Russell Fairchild jailed for Chris Humphreys airgun killing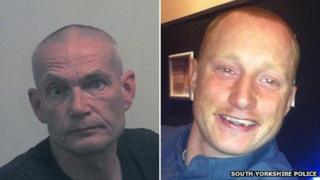 A man who shot and killed a man with an air rifle has been jailed for three years for manslaughter.
Chris Humphreys, 24, died in hospital six days after he was shot in the head at a house in Sheffield on 5 May.
Russell Fairchild, 47, of Handsworth Grange Road, Sheffield, was sentenced at Sheffield Crown Court after pleading guilty at an earlier hearing.
Following the plea hearing earlier this month, South Yorkshire Police urged people to be careful with air rifles.
Det Insp Victoria Short said: "Even though air weapons can be legally owned, they are very dangerous items and must be treated as such.
"These weapons must be used in the correct and appropriate manner, stored safely, and not played with while under the influence of alcohol.
"Our thoughts are with Christopher's family as they begin this next step of the grieving process."