Flood defence plans for Lower Don Valley submitted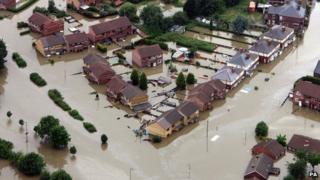 Plans have been submitted for a £16m project to protect part of South Yorkshire from flooding.
Hundreds of homes and businesses in the county were damaged when the River Don flooded in 2007.
Plans for defences along 5 miles (8km) of the river, from Sheffield centre to Blackburn Brook near to the M1, have been drawn up by the City Council.
If permission for the scheme is granted, work will start next year and is expected to be completed by 2015.
The plans, which includes 40 separate projects, involve new flood walls, the improvement of existing defences, reinforcement of vulnerable bridge parapets and the installation of flood gates.
Business contributions
The flooding in South Yorkshire in June 2007 claimed two lives and caused millions of pounds worth of damage.
Councillor Jack Scott, cabinet member for environment at Sheffield City Council, said flood defences were "clearly required".
"The project is excellent value for money and it should give businesses much better protection than there is now."
The council will contribute £8.1m towards the cost of the project, the government will provide £5.5m and a bid has been submitted for £1.2m from the Environment Agency.
It is hoped another £1.4m can be raised by setting up a Business Improvement District (BID), which would see more than 200 affected companies making a payment calculated on their rateable value over a period of five years.
A BID has to be approved by a majority of businesses affected by the plans through a ballot, which is expected to take place in December.
Richard Wright, from Sheffield Chamber of Commerce, said the project would help businesses get insurance cover and "strengthen the viability of this vital economic area".