Huge fire engulfs tower at Doncaster industrial site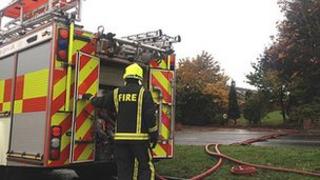 More than 40 firefighters have tackled a serious fire at an industrial site in Doncaster.
South Yorkshire Fire Service said the blaze broke out at a tower containing tar or oil at Bawtry Carbon International at about 06:00 BST.
Crews stopped it from spreading to neighbouring buildings. The cause of the fire is unknown.
It was the second major fire in the county within 12 hours following a blaze at a Sheffield furniture store.