Cyprus drowning victim Keith West's family pays tribute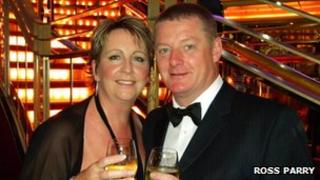 The brother-in-law of a Sheffield man who drowned in the sea off Cyprus while saving a man in difficulty has spoken of the family's loss.
Keith West, 50, had been holidaying on the island with his fiancee Julie Davies while the couple planned their wedding there next year.
Mr West was caught in an undercurrent on 14 October after rescuing a man.
His brother-in-law, Steve Robjohns, said Mr West "would not have hesitated" to help someone in danger.
"Keith was an old fashioned Yorkshireman. He was brilliant, he was true, and there wasn't a bad bone in his body.
"It doesn't come as a surprise to me that he's done what he's done," said Mr Robjohns.
'Truly awful'
It is believed Mr West was walking along the beach with his fiancee when he saw a man in trouble in the water and tried to help, said Mr Robjohns.
He managed to save the man but was then caught by a wave and pulled under the water.
Mr West had been submerged for about 10 minutes before a lifeguard found him and he could not be resuscitated.
Ms Davies was "badly cut up" about her partner's death, said Mr Robjohns.
"She has just had him pulled away from her and she can't get to grips with the fact she's never going to see him again," he said.
"It's truly awful and all our hearts and minds go out to Julie who absolutely loved him to bits. It's truly heart-rending stuff."
The Foreign Office said it was aware of the death of a British national on Cyprus and was providing consular assistance to the family.