Shopkeeper killed and man hurt in Rotherham 'machete' attack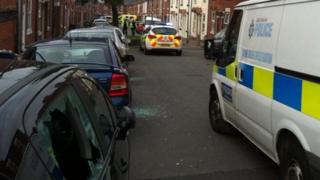 A shopkeeper has died and another man has been seriously injured in a suspected machete attack in Rotherham.
Sightings of a man brandishing a machete in the Eastwood area and near a Tesco store in the town centre were reported to police at 14:00 BST.
One man was found to have died at the scene. The injured man has been taken to hospital. A 27-year-old man has been arrested on suspicion of murder.
Police have not confirmed reports that the arrested man had been Tasered.
Grosvenor Road in Eastwood has been cordoned off and there is a large police presence in the area, which the force said would remain in place throughout the night.
Ch Supt Jason Harwin, of South Yorkshire Police, said: "This is a shocking event.
"It's a tragic event for the family and clearly we need the public's support to get all the evidence we can to make sure the person or persons responsible for this are brought to justice."
'Wonderful person'
Omar Mehban, a local Conservative spokesman, said the dead man owned a local shop with his brother and was married with children.
Mr Mehban said: "He was a family friend.
"This is such a shock and I feel really deeply for his family.
"He should be celebrating Eid tomorrow with his wife and kids, instead they are faced with this.
"He was such a wonderful person, always courteous and kind. All the times I went in his shop, I can never recall him not smiling.
"It's absolutely devastating."
Dozens of people in Rotherham have been tweeting about the incident.
Richard Cattley tweeted: "A man has just ran past me in Rotherham town centre wielding a machete covered in blood shouting move!! Police everywhere!"
'Huge knife'
He later told the BBC: "I was walking towards the market, I heard a guy shout 'move move'.
"I turned around and saw a man running towards me. I moved out of the way and spotted that he had a 12-inch machete in his hand that he wasn't trying to conceal.
"A lady said we should call the police. She said 'there was blood on that knife'. The nearby builders said the same. I didn't see the blood.
"Police caught up with him near Tesco."
Ben Shepherd tweeted: "Lunatic running through Tesco, Rotherham brandishing a huge knife, frightened the life out of our secretary. Taken out by 10 police & taser."
While the injured men were attacked in Grosvenor Road, it is thought the suspect was arrested at the Tesco store on Market Street in the town centre.
A Tesco spokesperson said staff were supporting police with their investigation.
Yorkshire Ambulance Service confirmed it had been called to the scene but would not comment further.