Ex-PC Jonathan Webb jailed for £23,000 theft from woman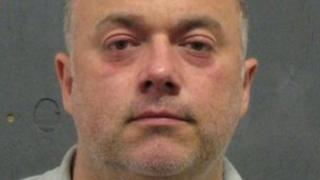 A former police officer who stole £23k from an elderly woman he befriended and then changed her will to make himself the beneficiary, has been jailed.
Jonathan Webb, 45, also stole war medals from a veteran's family and took cash from another victim, Leeds Crown Court heard.
Webb, of Sterndale Road, Millhouses, Sheffield, admitted theft, fraud and forgery and was jailed for six years.
He was a South Yorkshire Police constable at the time of the offences.
The judge, Guy Kearl QC, told Webb his actions were "sophisticated and planned acts of fraud" that had "brought disgrace" upon himself and South Yorkshire Police.
Webb had resigned from the force while the investigation into his crimes was taking place.
'Utter disgrace'
The offences took place in Sheffield between June and December last year.
The court heard Webb had befriended a 94-year-old woman, manipulated her finances and withdrew hundreds of pounds daily from her account.
He also typed a new will in her name, making himself the sole beneficiary of her £400,000 estate, which she had left to charity.
In mitigation Webb's barrister said his client, who owed tens of thousands of pounds, felt a great sense of shame about what he had done and had taken steps to turn his life around.
After sentencing, Det Supt Terry Mann, from South Yorkshire Police, said Webb, a father of five, was an "utter disgrace to the uniform".
He said: "He has brought shame to the whole of South Yorkshire Police and the police service nationally.
"He preyed on a most vulnerable victim, choosing to steal her money in a most devious and deceitful way."
Alisha Kaye, from the Crown Prosecution Service, said it was "hard to imagine a more contemptible breach of trust".
"Far from being a pillar of society, Webb has proved himself to be a common criminal. I hope the sentence he has received today will bring some measure of closure to his victims," she said.