South Yorkshire sex abusers not to face extra charges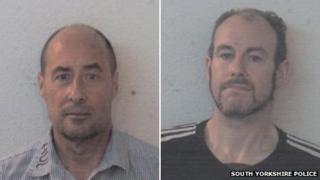 Two men who pleaded guilty to more than 50 "appalling" child sex offences will not face trial over 14 other allegations, prosecutors have said.
Anthony Marsh, who is HIV positive, and Lee Davis, both from South Yorkshire, admitted abusing boys as young as 13.
Police said all of the boys tested negative for HIV, but said there could be more victims who have not yet been traced.
Marsh, 53, and Davis, 39, will be sentenced on 2 December.
Last month Marsh, of Menson Drive, Hatfield, and Davis, of Rowena Road, Conisbrough, appeared at Sheffield Crown Court where they pleaded guilty to a string of offences.
Marsh, also known as Tony Taylor and Tony Smith, admitted 34 charges, including having sexual activity with a child and possessing and distributing indecent images of children.
Davis, also known as James Parkin, pleaded guilty to 20 charges, including rape, sexual activity with a child, and taking indecent photographs of a child.
Both admitted a joint charge of conspiracy to commit sexual activity with children.
Possible life sentences
The Crown Prosecution Service said a trial on the additional charges was not in the victims' "best interests" and asked for the charges to lie on file.
The offences, which date back to 2005, involved boys aged between 13 and 17 years old, from South Yorkshire, East Yorkshire, the North East, North West and the Midlands.
Det Insp Delphine Waring, of South Yorkshire Police, said: "Marsh and Davis committed many appalling crimes against young, vulnerable boys over many years.
"They've been contacting people online, either on gay websites or social networking sites such as Facebook, Bebo or BBM messaging, things like that.
"I've obviously made every effort to prioritise identifying any possible child victims but because of the scale of the offending, clearly there will be some young boys out there that unfortunately we haven't as yet been able to identify.
"If there are any young boys who have been offended against by these two I would urge them to come forward."
Ms Waring said they were not acting as part of a larger paedophile ring.
District Senior Crown Prosecutor Chris Hartley said Marsh and Davis both faced possible life sentences.
"We've spoken to the remaining victims and explained the current position. We've listened to their views and found that a trial for these offences would not be in their best interest. They have agreed with our decision.
"As both of the men pleaded guilty to conspiracy to share the details of the victims, and Davis also pleaded guilty to rape, the judge has the option to sentence both of them to a maximum of life imprisonment."