Sheffield plans new retail scheme after Sevenstone scrapped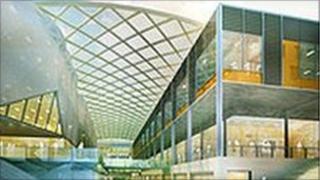 Plans for a new multi-million-pound retail development in Sheffield are being scrapped and completely redrawn.
Sheffield council is severing ties with developer Hammerson after the company failed to deliver the £400m Sevenstone scheme in the city centre.
The council had intended to continue with the scheme and find a new developer but it has now decided to go back to the drawing board.
Hammerson has said ending its work with the council had been a mutual decision.
New plans are expected to be unveiled by next spring.
The council said it had set a target for completion of the scheme during the 2018/19 financial year.
'Decisive action'
The development, currently called New Retail Quarter, will cover the same area as the Sevenstone proposal, between Barker's Pool, The Moor and Wellington Street.
Councillor Leigh Bramall, cabinet member for business, skills and development at the city council, said: "We are taking decisive and clear action to deliver a New Retail Quarter for Sheffield.
"We will bring a brand new scheme forward for the people of Sheffield, a high-class regional shopping and leisure facility that would compete with other city centres such as Manchester, Leeds and Nottingham."
The council is seeking a new development partner or investor for the scheme and said it had already been approached by several companies.
Peter Cole, Hammerson's chief investment officer, said: "We have worked very hard to achieve a retail scheme which creates a thriving city centre environment in Sheffield. We believe the city can build on our work to date."