Council's £1m cost for Sheffield Tour de France stage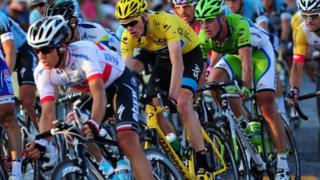 Almost £1m is to be spent by Sheffield City Council to bring the 2014 Tour de France to the city.
The cycle race, in its 101st year, could bring £15m into the South Yorkshire economy, the authority said.
The second day of the tour will start at York Racecourse, go through the Pennines and climb the 1,720ft (524m) Holme Moss before ending in Sheffield.
Some people have criticised the spending in the aftermath of the closure of the Don Valley Stadium.
But councillor Isobel Bowler said the £900,000 expense was a "one-off investment in the city".
The breakdown of the council's cost to host the event includes a £200,000 staging fee and £215,000 to be spent on marketing.
Ms Bowler, the Labour council's cabinet member for sport and leisure, said the decision to bring the race to Sheffield would help "tourism, inward investment and profile".
She said: "It is not about one day or even one weekend."
'Disgusting'
The authority said it expected about 250,000 spectators to watch the race around the city, which will cover about 19 miles (30km) of road.
It said the event would bring up to "£10m of direct economic benefit and £5m of place marketing value to the city".
A report to approve the funding will be considered by the council's cabinet at a meeting next Wednesday.
The expected costs have been criticised by some people.
Rob Creasey, of the Save Don Valley Stadium Campaign, said: "On the council's model that's two years' running costs for the Don Valley Stadium.
"Our plan had been to unlock the gates and fill the stadium so the people of the city and region could celebrate the [Tour] event."
On the BBC Look North (Yorkshire) Facebook page, Gemma Crossley said it was "disgusting when they have shut Stocksbridge leisure centre for the sake of £400K. My children can't have swimming lessons anymore because of a bike ride!!!"
Marie Louise Hudson agreed, saying "they couldn't afford to keep Stocksbridge Leisure Centre open which is used by the whole community".
Thom Wiseman said: "It shows a clear message that Sheffield City do not want people taking part in sport with the closures of Don Valley and Stocksbridge.
"But you can stand on a street and watch the bikes go past."
But Peter Robertshaw disagreed, saying: "The world's biggest cycle race comes to Sheffield: let's show off our city...I applaud the council for having the guts to do this."
The first stage of the race on 5 July 2014 departs from Leeds Town Hall before finishing in Harrogate.
The precise route for the Sheffield stage has not yet been announced.