Doncaster's Dignity poem aims to 'restore some pride'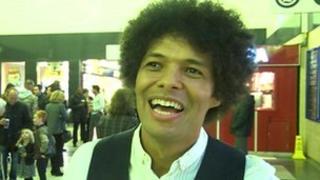 A poet has spent "several hundred pounds" to put his work on a wall at Doncaster railway station to "restore some pride" to the town.
Paul Luke, 37, from the South Yorkshire town, wrote and funded the Doncaster's Dignity poem.
Mr Luke said: "Seeing something on the wall that represents my own heritage and upbringing is priceless."
The words include mentions of the town's mining heritage, football team, racecourse and architecture.
'Story so true'
The poet said he wanted to counter some "negative publicity" the town was receiving about four years ago and he "put down a few words".
Mr Luke said the poem was "a personal account of how I was feeling".
He said his favourite line from the poem was "Smiles flow from the faces of those old and new, reflecting the thoughts of a story so true".
Mr Luke added the poem's permanent position in the town's railway station was appropriate.
"It was a pivotal trade point for the rest of the country", he said.