Sheffield's HS2 station 'more beneficial' in city centre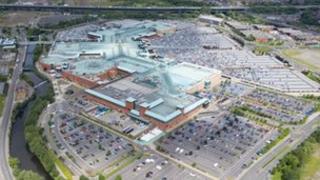 A new high speed rail station planned for Sheffield would bring more economic benefit it it was sited in the city centre, a report has said.
The government's preferred route for the second phase of HS2 would see a station built at Meadowhall linking the city with London and Birmingham.
The report says the old Victoria station would cost more but would bring increased jobs and money into the city.
A government consultation is currently being held on the route.
The Deputy Prime Minister has previously said it was right to site Sheffield's HS2 station away from the city centre.
Nick Clegg, who is MP for Sheffield Hallam, said it would be "more expensive" and the "train link would be slower, which slightly defeats the purpose of the whole exercise".
'Everything possible'
The council-commissioned report by Volterra says that where high speed stations have been built outside cities, such as Valence and Avignon, in France, there has been virtually no economic benefit.
It said having the station at the Victoria site near the Wicker Arches rather than three miles outside the centre at Meadowhall would bring in an extra £5bn and create thousands more jobs.
Leigh Bramall, Sheffield council's cabinet member for business, skills and development, said: "Meadowhall is not the best area to attract inward investment from the likes of the companies that tend to group around HS2 fast speed stations such as Pricewaterhouse Coopers and KPMG.
"They want to be in a city centre environment where they've got good public realm and space and it's likely that Meadowhall wont' do that so that's where the jobs argument comes in."
Mr Bramall added: "This is a one in a 100 year project, surely it's about economic regeneration and growth.
"We should be doing everything possible to get that right so let's have a look at it now."
A final route for phase two is expected to be chosen by the end of 2014.