Thorne soldier Sgt Lee Davidson 'unlawfully killed'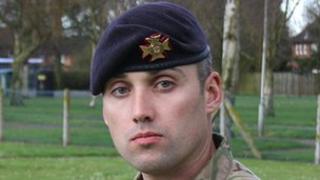 An inquest into the death of a soldier from South Yorkshire who was killed by a roadside bomb in Afghanistan has ruled he was killed unlawfully.
Sgt Lee Davidson, 32, from Thorne, near Doncaster, died on 9 September 2012 when his armoured vehicle hit a roadside bomb in Nahr-e Saraj, Helmand.
Sgt Davidson, of the Light Dragoons, was training Afghan police officers.
After the inquest, his wife, Samantha, said his family, including his three children, were "so very proud" of him.
'Wrong call'
The inquest, at Doncaster Magistrates' Court, heard Sgt Davidson was on patrol in Helmand as part of a convoy of armoured vehicles.
The convoy was moving down a dirt road when a roadside bomb exploded under Sgt Davidson's vehicle which was flipped onto its roof by the impact.
Sgt Davidson was flown to Camp Bastion where treatment was attempted, but the soldier's life could not be saved, the inquest heard.
During the inquest, it emerged the route down which Sgt Davidson's convoy had travelled had been checked about an hour before by US bomb expert engineers.
Maj Christopher Sargent, Sgt Davidson's commanding officer, told the inquest he believed that route was the safest one available at the time.
"I made that call, wrongly as it turned out, but I made it in good faith," he said.
'Questions answered'
Coroner Nicola Mundy said the US team which had examined the road for explosive devices had failed to provide proper risk advice.
If detailed advice had been given, the planned route could have been changed or vulnerable points along the road investigated, said Ms Mundy.
However, she said she had to conclude Sgt Davidson's death was unlawful killing due to insurgent activity.
In a statement after the inquest, Mrs Davidson said: "The questions our family had have been answered.
"We are satisfied that everything possible was done to try and save Lee's life.
"We all miss Lee and are so very proud of him. He lives on in his family, but especially the three children he leaves behind."
Sgt Davidson was the 427th member of UK forces to have died since operations in Afghanistan began in October 2001.