Don Valley Stadium: Fight to save Sheffield venue lost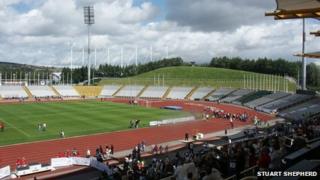 Campaigners have lost their fight to take over the running of Sheffield's Don Valley Stadium.
The city council turned down an application from action group Save Don Valley Stadium (SDVS) to have the site listed as an asset of community value.
In April, the council voted to demolish the stadium where Jessica Ennis-Hill trained, stating it was unsustainable.
The authority said campaigners did not have enough evidence for their bid. The stadium is set to close on Monday.
Athletics coach Rob Creasey, who is part of the SDVS campaign, said he was "very disappointed" about the decision and said the group was talking to lawyers about possible legal action.
"There is certainly an option for a public inquiry and also judicial reviews," he said.
"We are on with this and we are convinced that we demonstrated that it is a community asset."
'Underutilised'
Paul Billington, director of culture and environment at Sheffield City Council, said in the council's view the bid failed to meet the government's requirements for listing as community asset.
"The evidence really is around levels of usage," he said.
"It's around the impact of closure and it's around the level of public support."
He added: "The fact is Don Valley Stadium has been underutilised.
"It's nothing to do with management, it's the nature of the activities that take place there and the scale of the facility."
No date has yet been scheduled for demolition.
The council decided to close the site to save the £700,000-a-year operating costs, and repair works estimated at £1.6m.
Plans have been put in place to refurbish Woodbourn Road Athletics Stadium, with Sheffield Hallam running the site.