Art auction for fire-hit Sheffield Reclaim charity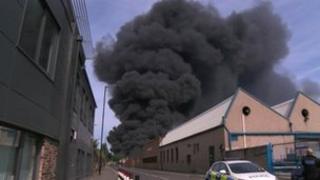 Artwork is to be auctioned off to raise money to help a charity for adults with learning difficulties.
A huge blaze destroyed part of the building at Reclaim's plant in Attercliffe, Sheffield in July.
It meant adults who meet on site to sort and recycle plastic and learn life skills have lost their place of work.
The auction at the end of September will raise cash to help the charity's rebuilding efforts.
Liz Carrington, from Reclaim, said the recycling processing facility had been destroyed so the charity was not able to generate its own income to help pay for the rebuild.
Ms Carrington said: "The charity is extremely important to our service users, some of whom have been with us for over 15 years.
"It gives them a purpose in life and a sense of belonging."
The event will see the work of seven artists being displayed, with the artwork sold off in a silent auction.
The exhibition, which takes place at B&B gallery on Mary Street, Sheffield on 28 and 29 September, will also feature art created by adults who use the charity.
South Yorkshire Fire and Rescue Service said the fire started in a neighbouring yard and was accidental.