York teacher Richard Oldham jailed for child sex offences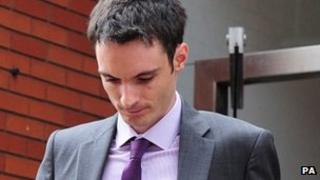 A primary school teacher who filmed young boys on a phone as they changed for swimming lessons has been jailed for six months.
At Leeds Crown Court, Richard Oldham, 32, pleaded guilty to voyeurism, as well as six counts of sexual assault against two boys.
Oldham, now of North Tamerton, Cornwall taught at several primary schools in the York area from 2004 to 2012.
The judge, Rodney Jameson QC, told Oldham he had "demons to wrestle with".
He told Oldham "I'm confident you're man enough to do it. This is, in the classic sense of the word, a tragedy - that somebody with your ability, and the good in you, was not able to control successfully instincts that led you to commit these offences."
He said the six-month jail sentence would be "a very severe punishment" for Oldham, who was described in court as a "gifted teacher".
'Predatory paedophile'
Oldham, who admitted a total of 17 offences relating to making and possessing indecent images of children and voyeurism, was given a sexual offences prevention order and banned from working with children.
Speaking after the sentencing hearing, Det Sgt Adam Normanton, from North Yorkshire Police, described Oldham, who had more than 2,000 images of children on his computer, as a "predatory paedophile".
He added: "When questioned by the police he dismissed the evidence of the children and tried to distance himself from the catalogue of child images on his computer including the videos he himself had recorded.
"He tried to portray himself as the model teacher in fact he was the opposite. He was every parent's worst nightmare and prison is the right place for him."
Joe Cocker, from the City of York Council's safeguarding children board, said: "Richard Oldham has betrayed the trust of his pupils, their parents, his colleagues and profession."