Barnsley's Locke Tower reopens after restoration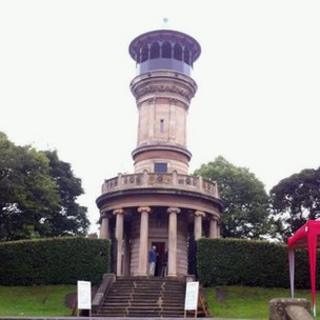 A folly built in memory of a railway pioneer's widow has reopened to the public more than 20 years after it was closed due to safety fears.
Locke Tower, in Barnsley's Locke Park, has had £80,000 of restoration work done to fix the spiral staircase, the outside steps and the electrics.
It was built in 1877 as a memorial to engineer Joseph Locke's wife, Phoebe, who created the park in his memory.
Another £120,000 still needs to be raised to repair the ornate stonework.
Town's highest point
Bob Britton from the Friends of Locke Park group said the tower was an "icon" for the people of Barnsley.
"The experience [of going up to the top of the tower] has been lost for a generation," he said.
The tower is about 70ft (21m) high, and is said to be the highest point in Barnsley.
From the wooden viewing platform there are panoramic views of Yorkshire and Derbyshire.
"Joseph Locke was a very well known figure in the 19th Century," Mr Britton said.
"He was a leading railway engineer and he engineered most of the main railway links across the country, and built railways in France and Spain.
"He was educated and brought up in Barnsley and had a soft spot for the place.
"His widow Phoebe Locke produced some money to buy the first part of what is now Locke Park in 1862, to commemorate her husband.
"The tower was constructed as a result of a second bequest in 1872 from Phoebe's sister, who doubled the size of the park and had this tower built."
It was opened in a ceremony by the mayor of Barnsley, councillor Ken Richardson, who said: "Many people have wanted to see the tower reopen for a number of years and I'm honoured to take part in this event."