Demonstration over proposed Rotherham care home cuts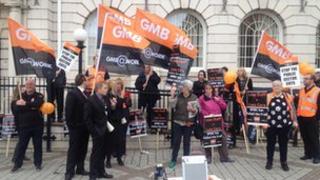 Union members have demonstrated outside Rotherham Town Hall over proposed staffing cuts at two care homes.
The GMB union says up to 70 staff could lose their jobs at Lord Hardy Court and Davies Court under Rotherham Borough Council plans to save £900,000.
Union representatives say the job losses would impact on the safety of staff and residents at both homes.
The council has said the cuts will not affect the quality of care and staff levels will remain above average.
Speaking at the rally, GMB branch secretary Eric Batty said: "You cannot cut staffing by the amount that is being cut without there being an impact on the safety of everybody in these homes."
'Huge challenges'
Maureen Hammond, 72, whose sister has been a resident at Davies Court for more than three years, said she was concerned about the reduction in staff numbers.
"I do not think that the care should be stopped. It should be kept at the level it is, as they do an absolutely brilliant job in both homes."
Shona McFarlane, the council's director of Health and Well-Being, moved to reassure people, saying staff levels would remain higher than the average found in many homes, and would meet the expectations of the regulator, the Care Quality Commission.
She said: "Public services face huge challenges, and, unfortunately, adult service provision is no different."