Gary Madine assault case jury retires at Leeds Crown Court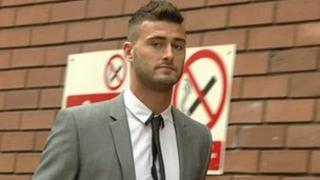 The jury has retired to consider its verdict in the case of a Championship footballer accused of punching two men in separate nightclub incidents.
Sheffield Wednesday striker Gary Madine, 23, is alleged to have been involved in the attacks in 2012.
Mr Madine admits he hit Daniel Beresford in the city's Paris Bar but said he was acting in self-defence.
He told Leeds Crown Court he was not the man who hit Reece Hall four weeks later in the Viper Room club.
Mr Madine, who is 6ft 3in tall and weighs 14st, is originally from Gateshead.
He has not played for Sheffield Wednesday this season due to the court case.
The jury has heard he has a previous conviction for knocking a man out in a Carlisle bar when he was playing for Carlisle United.
Mr Madine denies causing grievous bodily harm and the alternative charge of assault occasioning actual bodily harm against Mr Beresford.
He also denies causing grievous bodily harm with intent and the alternative charge of causing grievous bodily harm against Mr Hall.