Grenoside Primary School goes from outstanding to inadequate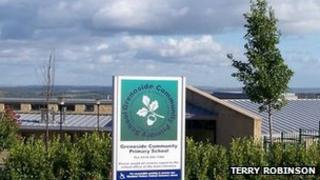 A primary school which was rated outstanding three years ago has been judged inadequate in an Ofsted report and placed in special measures.
Grenoside Community Primary School, in Sheffield, has been told it must "urgently improve the quality of leadership and management".
Inspectors visited the school in June.
Pamela Smith, who is in her first term as head teacher, said the school was working to "address each area of concern raised by Ofsted inspectors".
"We've started to put measures in place so Grenoside can return to its former glory," she said.
'Enthusiastic and energetic'
Ofsted says a school is placed in special measures when it fails to give its pupils an acceptable standard of education and when its leaders have not demonstrated it can improve.
The Ofsted report praised teachers for being "enthusiastic and energetic" and said pupils were "well-behaved".
The school's former head teacher, Colin Fleetwood, and its head of governors left the school at the end of the summer term.
Grenoside is to receive regular monitoring by Ofsted inspectors.