Hillsborough: Organisations could face manslaughter charges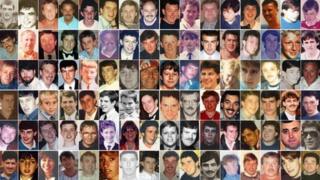 Manslaughter charges could be brought against organisations over the deaths of 96 fans in the Hillsborough tragedy, an inquiry boss has said.
Jon Stoddart said he was looking at the actions of South Yorkshire Police, Sheffield Wednesday FC, Sheffield City Council and the FA.
The retired officer said they were all being investigated for possible gross negligence manslaughter.
His team has found new evidence while going through thousands of documents.
The first priority for Mr Stoddart's inquiry, called Operation Resolve, is to provide evidence for the new inquest, which is set to start by 31 March 2014.
Unlawful killing
Once the inquest concludes the team will concentrate on the criminal side of the investigation and eventually hand its findings to the Director of Public Prosecutions (DPP) for consideration.
Mr Stoddart, a former Durham Police Chief Constable, said: "We are here to try and prove or disprove the unlawful killing of 96 people and clearly the DPP will have to make a very important series of decisions on this."
He said the coroner had given three things to consider as a priority: the safety of the stadium, the movements of the deceased and the response of the emergency services.
Forensic scientists, pathologists, structural engineers and the Health and Safety Executive were among experts being consulted, he added.
He said: "We have definitely identified a significant number of people who we know have got a story to tell but who haven't provided us with a statement or an interview so clearly they are part of the priority, that we make sure that we are going to find these people.
"We have to go through all of the investigation and interview them and if necessary we'll take statements as well, but clearly we have got [to consider] the families, the police officers on the day, the work beforehand in the stadium, the design, the engineering, the changes that were made to the stadium, they're all part of the inquiry.
"The Football Association, why they decided to award the match, the semi-final, to Sheffield Wednesday, and the club, have got a certain responsibility as well so it's a very wide inquiry."
Mr Stoddart said the team was nine months into an inquiry which could take up to three years.
"It's a massive, massive investigation, it's the biggest criminal inquiry in the history of the English and Welsh police services.
"Some people have criticised the pace of the inquiry but we can't afford to rush anything here.
"This is so important. It's so important for the families, we have got to get this right."