Sheffield Wednesday's Gary Madine denies nightclub attack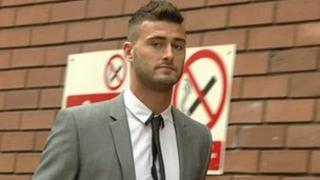 A Championship footballer has denied punching a man unconscious in a Sheffield nightclub in March last year.
Sheffield Wednesday striker Gary Madine, 23, told a jury that while he had spoken to Reece Hall at the Viper Room club he was not the attacker.
Prosecutors at Leeds Crown Court allege Mr Hall is one of two men assaulted by the footballer in separate unprovoked attacks within a few weeks in 2012.
Mr Madine, who has a previous assault conviction, denies the charges.
'Not a clue'
The striker was arrested after Mr Hall was attacked in the Viper Room on 11 March last year and was left with a shattered eye socket and cheekbone.
Mr Hall picked out Mr Madine while still in the bar but, weeks later, told police he had identified the wrong person.
Mr Madine told the jury he had been talking to Mr Hall in the toilets of the club and saw him being hit after they had both left the room.
But, asked whether it was him who hit Mr Hall, Mr Madine said: "Definitely not. I do not have a clue who it was."
Mr Hall has told the jury how Mr Madine asked him in the toilet: "Wednesday or United?"
But in the witness box, the Gateshead-born footballer said he did not remember the conversation.
He told the jury: "I do not think I would have asked that. I am neither. I just work for them. I'm a Newcastle fan."
'Just panicked'
Asked about a separate incident four weeks earlier, Mr Madine admitted he punched Sheffield Wednesday fan Daniel Beresford in the Paris Bar, also in Sheffield city centre.
But the striker told the jury he had panicked after Mr Beresford threw a drink in his face.
"I didn't know if he was going to hit me with a bottle or a glass. I just panicked," he said.
Mr Beresford has told the jury at Leeds Crown Court he had no idea why Mr Madine hit him.
Mr Madine also admitted he told police "I'll have you all" after he was arrested following the incident at the Viper Room.
He said he was normally "quite polite" but was "raging" after officers put him in a police van.
One of the officers had told him "We're all Blades [Sheffield United fans]", said Mr Madine.
"To say that to me and then arrest me. I was very, very mad," he said.
'Out of order'
The footballer said he was agitated because members of the public were taking his photograph and he was concerned what his manager would say if he saw the pictures.
He admitted he was "bang out of order" in his behaviour towards the police.
Asked by Alison Dorrell, defending, to sum up his feelings about a previous conviction he has for knocking a man out in a Carlisle bar when he was playing for Carlisle United, he said it was "embarrassing".
"It's laughable when you look back on it now. I was just a young kid being a clown really, immature," he added.
Mr Madine denies causing grievous bodily harm to Mr Beresford, and causing grievous bodily harm with intent against Mr Hall.
The trial was adjourned until Tuesday.