Miners' flag unveiled at Markham Main memorial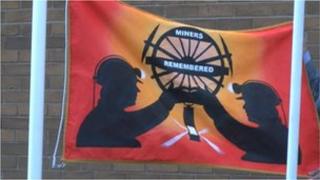 A flag has been unveiled in memory of 87 miners who lost their lives at a South Yorkshire colliery.
The men died at Markham Main pit in Armthorpe, near Doncaster, between 1920 and 1996, when it closed.
The flag, thought to be the only one in England dedicated to miners, has been designed by Doncaster College students and members of a memorial group.
It was unveiled by former miner Dennis Knowles and Doncaster Central MP Rosie Winterton during a memorial service.
The service was held at the Markham Main memorial garden in Armthorpe, which is looked after by volunteers.
Mr Knowles said: "We have gone now, all the pits have shut, but we have never got to forget the miners.
"We built this country, we built this village."