Sheffield Arena reopens after £3.5m refurbishment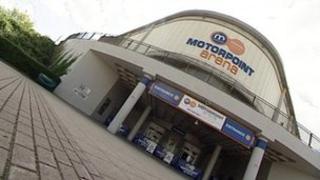 Sheffield Arena has reopened after a £3.5m refurbishment.
The project included a new roof and the replacement of all 12,500 seats and was the first refurbishment at the venue since it opened in 1991.
The arena - home to the Sheffield Steelers ice hockey team - also has additional toilets, new lighting and refurbished catering outlets.
The reopening comes days after Elton John officially opened a £60m rival venue in Leeds.
Simon Bailey, the arena's marketing manager, said: "I think that the improvements that we are making, the flexibility of the building and the layout of the building will stand us in good stead.
"Everybody who works here is incredibly proud of the building.
"Hopefully we'll be gaining shows from the work that's been done and customers will have a much more pleasurable experience."