Sheffield Eagles say Don Valley stadium closure could see team leave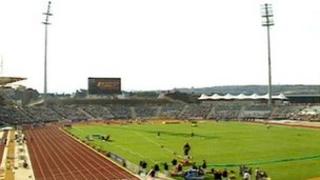 Sheffield's rugby league team may have to leave the city when the Don Valley Stadium closes, the club has said.
Mark Aston, Sheffield Eagles' chief executive, said he was "massively concerned" about staying in the city.
The stadium is to be demolished in September as the council seeks to make savings.
Paul Billington, director of culture, said the council would "do everything to ensure that the club continues to play games in the city next season".
He added the council was "working closely" with the Eagles and the Rugby Football League to identify "a suitable home venue" in Sheffield.
In July, Jessica Ennis-Hill's coach said she could be forced to train outside Sheffield when Don Valley closed.
'Fantastic city'
Mr Aston said the club had "explored every option" within Sheffield.
Sheffield Eagles play in the Rugby League Championship and were champions in 2012.
"We are proud to be called the Sheffield Eagles and play in this fantastic city", he added.
Plans to redevelop the site of Don Valley Stadium as a £40m "sports and wellbeing park" have been announced.
The smaller Woodbourn Road stadium will be reopened as a new home for athletics in the city.
In March Sheffield Council confirmed Don Valley would close.
The authority said it spent £700,000 subsidising the venue last year, and it requires major repair and maintenance work at a cost of £1.6m.
Don Valley Stadium was opened in 1991 for the World Student Games in Sheffield at a cost of £29m.