Ecclesfield community garden created from derelict land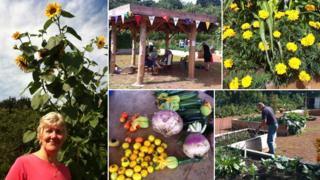 A derelict "dumping ground" has been turned into a community garden after a group raised more than £70,000.
The garden in Ecclesfield Park, Sheffield, is for residents, children and community groups to grow fruit, vegetables and flowers.
Angela Marsden from the Revitalising Ecclesfield Park and Pavilion Group, said it took more than three years to raise enough money for the project.
"The site used to be derelict, a dumping ground basically," she said.
"We had a vision about five years ago, and it came to fruition last spring and summer, when we were able to develop the site.
"It was originally, about 30 years ago, the park department's nursery site for growing trees, shrubs and flowers for the parks in the north of Sheffield.
"Due to cutbacks decades ago it was left derelict and became overgrown and just neglected basically."
Ms Marsden said the money for the project was raised through local fundraising efforts and a number of grants from community organisations.
The garden contains raised beds and an outdoor classroom, and Ms Marsden said the money earned from selling the produce grown there would be ploughed back in to buy more plants, seeds and tools.