Sheffield Wednesday footballer 'broke supporter's nose'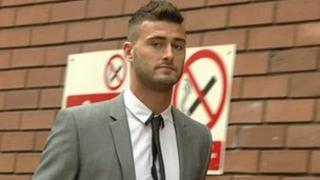 A Championship footballer broke a fan's nose in a bar fight before shattering a second man's jaw and cheek weeks later in a separate incident, a court heard.
Sheffield Wednesday player Gary Madine, 23, is accused of attacking Owls fan Daniel Beresford in February 2012 and Reece Hall in March 2012.
Prosecutors told a jury at Leeds Crown Court the centre forward was "an arrogant, violent thug" when drunk.
Mr Madine, who has a previous assault conviction, denies the charges.
Mr Madine is said to have attacked Meadowhall shopping centre worker Mr Beresford in the Paris Bar, in Sheffield city centre, knocking him unconscious and breaking his nose.
Mr Beresford told the court Mr Madine had been staring at him and, when he had asked why, the player lashed out.
He said: "He was one of my favourite players, someone I looked up to."
Defence counsel Alison Dorrell, however, described Mr Beresford as being "fighting drunk" and alleged he had thrown a drink on the player.
Mr Madine is further alleged to have assaulted Sheffield United fan Mr Hall in the Viper Room, also in the city centre, after asking him who he supported.
Mr Hall, who did not recognise the Wednesday striker, replied "United", and moments later he was punched in the eye, the court heard.
Prosecutor Ian West said Mr Hall suffered a broken jaw and his cheek was fractured in five places.
The court heard that Mr Madine, originally from Gateshead, already had a conviction for knocking out a man in Carlisle after pleading guilty to the attack in February 2010.
'Drunken punch'
Mr West said: "During his hours of sobriety, Mr Madine is a very fine footballer. However, if you believe the red top newspapers, as often footballers do, they go out at night and drink.
"The prosecution suggest in Mr Madine's case he, in too much drink, turns into an arrogant, violent thug."
Mr West added: "He is a very fit and strong young man. You may think Mr Madine is a large centre forward in the old-fashioned English style, and is very much aware of his physical strength, it being so much a part of his job.
"You would think on the third assault that when he throws a punch, especially a drunken punch, late at night in a nightclub, he is really going to cause a lot of damage.
"When thinking about what he was intending, do not forget he is a big, strong lad and he knows what he is capable of."
When Mr Madine played for Carlisle United, he knocked a man unconscious in the Beehive pub in February 2010 after he was refused a drink following closing time and tried to help himself, the court heard. He pleaded guilty to assault occasioning actual bodily harm.
Mr Madine denies causing grievous bodily harm against Mr Beresford, and causing grievous bodily harm with intent against Mr Hall.
The trial continues.