Rotherham care home cuts raises accident threat, GMB says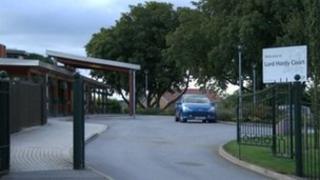 Proposed cuts at two council-run care homes in Rotherham will lead to an increase in accidents, the GMB union has claimed.
Lord Hardy Court and Davies Court provide specialist residential care for elderly people with dementia.
The two 60-bed care homes could lose up to 70 workers as part of council plans to save £20m from its budget this year.
Rotherham Borough Council said it "strenuously denied that any reduction in staff would cost lives".
Eric Batty from the GMB union said: "If you put staff under so much pressure by establishments being understaffed then accidents are more likely to happen."
Shona McFarlane, director of health and well-being for Rotherham Borough Council, said: "The quality of care to the residents will not be affected by the changes, which are being put in place following the staffing review held earlier this year.
"This review was undertaken to ensure that the services, which were identified to be high cost, could be delivered in a different way, at a lower cost, with no impact on resident safety or quality of care."