Barnsley Gay Pride dedicated to teen Steven Simpson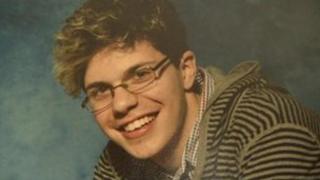 Organisers of Barnsley Gay Pride have dedicated this year's event to a teenager who was set on fire and killed during his 18th birthday party.
Steven Simpson, from Cudworth, died after sustaining "significant burns" last June.
Jordan Sheard, 20, of Darfield Road, Cudworth, was jailed for three-and-a-half years for manslaughter.
Organisers of Sunday's event were given special permission to dedicate it to Steven by his mum Bernadette Simpson.
Sheffield Crown Court was told Mr Simpson, who had Aspergers Syndrome and learning difficulties, was bullied during the party at his flat due to his disability and sexuality.
Tanning oil was poured over him by other people at the party before he was set alight.
Kevan Riggett, from the Barnsley Lesbian, Gay, Bisexual and Transgender Forum, said: "We felt that it was tragic loss of life just as he was starting to learn about his life, his sexuality and we feel we just can't lose his memory.
"We wanted to show his family we've not forgotten about him and he's still with us in our thoughts."
Ms Simpson said: "It's so nice that people are remembering him. I know there's going to be a lot of people there including a lot of Steven's friends."