South Yorkshire Fire Service targets firefighter numbers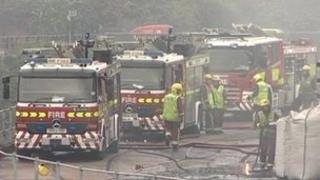 The number of firefighters in South Yorkshire could be reduced and response times scrapped if proposals by the county's fire service get the go-ahead.
The plan, to go before South Yorkshire Fire Authority, would see retiring firefighters not replaced.
A number of fire crews could also go part-time if the draft plan is accepted, said South Yorkshire Fire and Rescue Service.
The Fire Brigades' Union warned the service was "already struggling".
South Yorkshire's fire service currently faces a cut in funding of about £10m by 2015.
Six minute target
Under the new proposals, a total of four fire station closures, which have already been announced, will still go ahead.
However, there will be no further closures among the remaining 22 stations.
While four fire stations - Barnsley, Rotherham, Doncaster and Sheffield Parkway - will continue to be permanently staffed by two crews during the day, the draft plan suggests that overnight they should be staffed by one crew, with another part-time crew available on call.
The plan also suggests the new fire station at Birley Moor should be staffed by part-time fire fighters instead of permanent crews, as was originally planned.
The fire service's own six minute time target for responding to emergencies should also be scrapped, the draft plan recommends.
In March, it was revealed it had never met the target time since it was introduced in 2006.
'Protect the frontline'
The combined aerial pumps - introduced in 2011 at a total cost of £2.7m - would also be phased out.
Crews refused to use the pumps shortly after their introduction due to safety fears and mechanical problems.
Chief fire officer James Courtney said the draft plan had been drawn up after extensive consultation with staff and the public.
But Graham Wilkinson, from the Fire Brigades' Union, said the proposals amounted to a further cut.
"We just seem to be getting fewer and fewer and the job's getting harder and harder to do," he said.
The proposals will be considered by South Yorkshire Fire Authority on 2 September.