Rotherham's fallen WWII soldiers' names 'sponsored'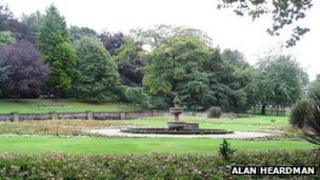 People are being given the chance to "sponsor" the names of Rotherham's fallen soldiers to raise money for a World War II memorial.
There is currently no permanent memorial to the 1,200 men from the town who died in the conflict.
£20,000 has already been raised for a cenotaph to be built in Clifton Park, but another £5,000 is still needed.
Fundraisers said they hoped the new sponsorship scheme would help them reach their target.
Marilyn Moreman, from the Friends of Clifton Park group, which began the fundraising campaign, said she hoped the memorial could be built in time for Remembrance Day next year.
"We've raised just over £20,000 in four years and we are so desperate to get that final £5,000.
"A very dear friend of ours came up with the idea of sponsoring one of the names in our book, and the initial cost we put on it was £20 per name.
"We've had people who've found names of relatives in the book, and they've sponsored them."
Ms Moreman said sponsors receive a certificate in recognition of their donation.
A £5m National Lottery-funded restoration of Clifton Park was completed in 2008 and last year it won a Landscape Institute award.