Sheffield Army officer facing jail for expenses fraud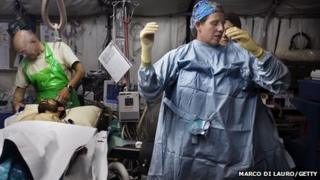 An Army officer who led a medical team saving soldiers' lives in Afghanistan is facing a possible jail sentence after admitting fiddling her expenses.
Lt Col Angela Knock, 49, from Sheffield, pleaded guilty to 10 counts of forgery and fraud, the Ministry of Defence (MoD) has confirmed.
She admitted the offences at Catterick Military Courts Centre last month and will be sentenced later this year.
The charges are understood to involve several thousand pounds.
The mother-of-three led a team of nurses in the operating theatre of the hospital in Camp Bastion, in Afghanistan, as part of the Territorial Army's 212 (Yorkshire) Field Hospital.
The hospital has treated hundreds of service personnel, many with horrendous injuries, and has saved scores of lives.
Col Knock, who has a civilian job as a nurse in at Royal Hallamshire Hospital in Sheffield, has been a TA volunteer since 1983 and served in Iraq as well as Afghanistan.
A judge advocate will rule on the details of Knock's case at a hearing at Catterick Garrison in October and she will be sentenced at a later date.
A statement from Sheffield Teaching Hospitals NHS Foundation Trust said: "Ms Knock is not currently at work due to leave and on her return there will be a meeting with Ms Knock to discuss appropriate next steps."