Stocksbridge Leisure Centre clean-up operation begins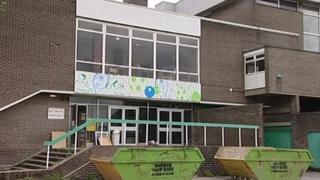 Volunteers have begun to clean and decorate a leisure centre which has been taken over by the community.
Sheffield City Council shut Stocksbridge Leisure Centre in April as part of a £50m programme of cuts, leading to protests and a 1,500-signature petition.
The authority handed the centre over to community group 4SLC last month and it is due to reopen in late September.
4SLC said hundreds of people had signed up to help over the next five weeks.
'Next big challenge'
Fay Howard from the group said: "We're preparing the centre for a grand reopening.
"It's the culmination of everything we've worked for, it's finally ours and we can do something physical.
"It's our business now - it's not Stocksbridge Leisure Centre anymore, it's Stocksbridge Community Leisure Centre."
But she said the pool would not be reopened with the rest of the centre in September as surveyors had found a serious problem with its concrete structure.
"The next big challenge is to raise the funds to get the pool open and maintain it," she told BBC Radio Sheffield.
"We've started by commissioning a survey to repair the tanking of the pool. Once that's done it'll give us an idea of the total we need to raise."